Effectively Using Tableau at a Global Technology Provider
The Cisco Systems name is synonymous with the internet. The company provides much of the technology that enables the web to exist, but a much broader technology footprint than most people realize. With over $46 billion in annual revenue, the company fuels that growth through a combination of organic growth and acquisitions. In fact, there have been over 160 companies acquired by Cisco since its inception.
Their operations span the globe, with the exception of Antarctica. You can imagine that could create a significant data headache. Cisco seems to manage it well. Despite a challenging economic climate, they have delivered consistently improving quarterly results during the same time that their Tableau deployment has been spreading globally.
---
Cisco Has Created a Data-Informed Culture
Users are able to learn Tableau skills quickly. Visualization makes data easier to consume. In addition, Cisco feels the Tableau architecture makes it easy for IT people to operate.
"At Cisco, we have a data-informed culture to drive growth, transform experience and improve productivity. Therefore, delivering data and analytics to our clients with speed and agility is absolutely critical. We deployed Tableau to enable self-service business intelligence and help mature our data-informed culture." KC Wu, VP, Information Technology, Cisco Value Chain IT, Cisco
Cisco reports that within five quarters of deployment, they were averaging over 500 users a month. The company was recognized this year by industry analyst, Ventana Research, in their eighth-annual Leadership Awards for individuals and organizations that demonstrate leadership to achieve spectacular outcomes.
---
How Cisco Trains Users
In a company of this size, it's impossible to know every use case for Tableau. Rob Higgins, Cisco's IT Finance Controller, reports that new dashboards are "popping up every quarter" and that the "value offered can be analyzed quickly." According to Rob, "Tableau condenses the time to failure by enabling rapid iteration of the data."
Cisco has a strong culture and decentralized operations. They promote training, but allow individual groups to decide how they should obtain training. In some cases this may involve self-study. Others request and receive classroom training. Some business groups opt to contract experienced consulting help to develop customized group training for their teams. There isn't a "one size fits all" approach. Work groups are allowed to pursue the style of training that works best in their teams.
---
How Cisco Is Using Tableau
Many different business and functional units are using Tableau. Information Technology, Operations, Finance, Procurement and Human Resources teams are actively using Tableau.
Visualizations and dashboards have been built to show new employee requisition status by job title, job, group and geography. Purchasing is tracked daily within the IT Finance team and backlog is tracked by organization. Figure 1 shows an example.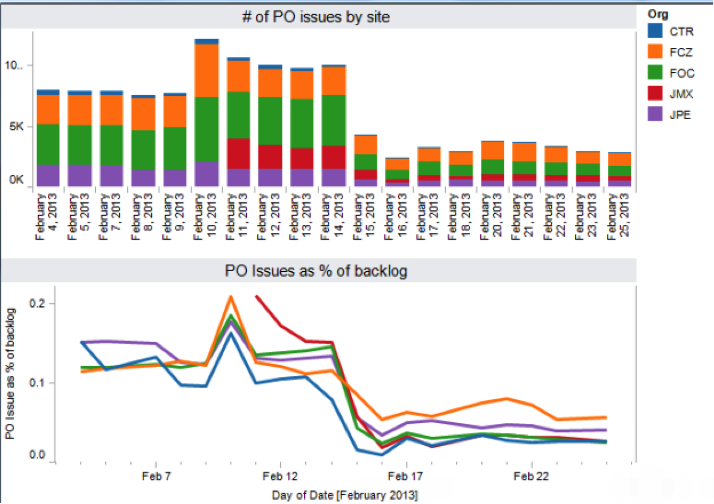 Figure 1: Purchasing Activity Dashboard
It is impossible to know all of the active use cases at any moment. The technology managers responsible are happy with the results they are receiving from the tool, and key IT staff can manage security effectively with a minimum time investment for setup and maintenance.