Hot off the presses, the 2nd edition of Tableau Your Data! is now officially available for purchase on Amazon and Barnes & Noble! This latest edition comes in response to nearly two years of major improvements to Tableau's already dynamic toolset. With over 150 pages of new content as well as significant updates and revisions to existing chapters, Tableau Your Data! 2nd Edition is much more than a simple facelift – it's an overhaul. What's more, it's already trending at #1 in Amazon's Math/Statistics category.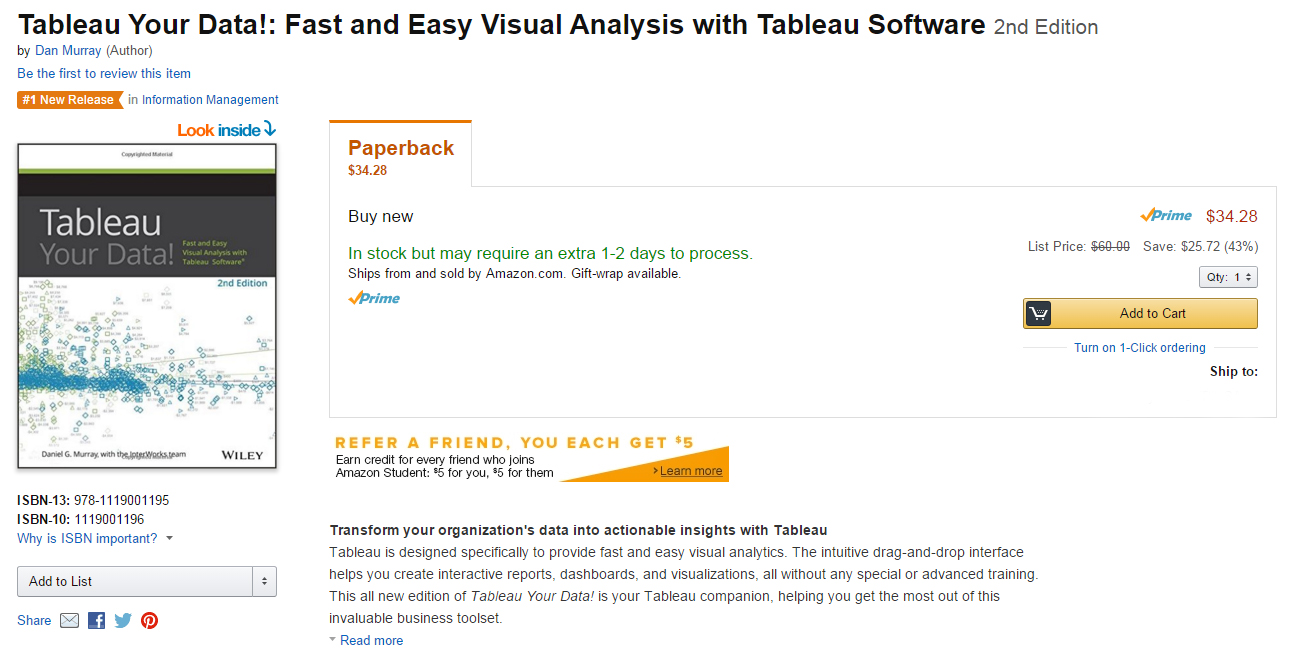 What's New?
As previously mentioned, there have been several changes in Tableau products over the past two years, many of them huge. As such, author Dan Murray focused largely on updating existing material to be current with Tableau 9.2. This equates to changes in virtually every chapter as well as the addition of two entirely new chapters.
New features and software changes aren't the only cause for change. As great as the 1st edition was, there was still some room for improvement. Thanks to invaluable feedback provided by the Tableau community, Dan was able to improve several areas to be clearer, more accurate and more relevant.
This post from Dan back in Nov. outlines updates found in the 2nd edition in more detail.
Reflecting on Success, Then Building on It
It's hard to believe that Tableau Your Data! first dropped two years ago. Even before sending it to Wiley for publication, we knew the book was something special. Prior to release, there wasn't a clear guide that adequately explained how Tableau fit into the visual analytics puzzle, at least on the enterprise level. Author Dan Murray and the InterWorks team changed all that with Tableau Your Data!
Since then, this best-selling guidebook has received praise from Tableau employees, Tableau Zen Masters and novice users alike. Not only does it sit in the libraries of some the sharpest data minds in the industry, it's become the curriculum of choice for Tableau classrooms around the world.
This makes us incredibly proud, and the 2nd edition was written with the intent of building on that success. We're confident that it will further your Tableau education and serve as a resource that you will come back to regularly. We hope you enjoy it and look forward to hearing your feedback!
To hear Dan's personal thoughts on the 2nd edition, check out his "Letter from the Author." You might also want to attend one of his upcoming book tour dates. Finally, to purchase your own copy of Tableau Your Data! 2nd Edition, head to the online retailer of your choice below: